Creed is so legit that I am still surprised - days later. I kid you not, I felt like Italians must have felt in 1976. This movie had all kinds of heart. I even got, dare I say it, a little emotional. Knowing that the last 3 or 4 Rocky movies were - as the French say - garbaaaage, I sure as hell did not expect to like a "spin-off" of Rocky. And, on the heels of the Floptastic Four, Michael B. Jordan completely redeems himself. Maybe it's because Stallone didn't write or direct it that this movie ended up being something I could endorse... Okay, it's definitely because Stallone didn't write or direct it that I can cosign a spin-off of the shaky, albeit iconic franchise.
I've bee
n a fan of Tessa Thompson since Dear White People... you had me at cultural misappropriation, girl. Jordan, The Wire put him on the map, but Fruitvale Station made him legit. Stallone - hwhwhwiuhokay (he'll understand that was a compliment).
VITALS
Ryan Coogler (Fruitvale Station) - Writer/Director
Michael B Jordan (Fruitvale Station, Fantastic Four) - Adonis Johnson
Tessa Thompson (Dear White People) - Bianca
Sylvester Stallone (Rocky, The Expendables) - Rocky Balboa
Phylicia Rashad (let's just say Clair Huxtable instead of mentioning the best sitcom in history because of a certain jello pushing, pill slipping, comedian) - Mary Anne Creed
Tony Bellew - "Pretty" Ricky Conlan
IF YOU MUST KNOW
Adonis Johnson (Jordan) is young man with a heavyweight chip on his shoulder (I bet somebody will steal that line). He didn't know his father, bounced around foster care and juvy, until Mary Anne Creed (Rashad) - Appollo Creed's widow (ooops, SPOILER ALERT... you did see the one with Dolph Lundgren as Ivan Drago, right?) tracks him down and magnanimously raises him in her home.
I would love to think I am a good enough guy to take in the offspring of a woman who was unfaithful to me if the kid had no one else, but... IMnotTHATDUDE!
Anyway, Adonis ends up taking after pop-dukes in a way that displeases Mrs. Creed and seems unnecessary in light of his promising career in finance. These crazy kids... leave it to a millennial to skip out on a solid, lucrative career for the long-shot prospect of something that is inherently dangerous. Dummies. Fortunately for him, this pays off in a huge way. Due to a random series of events that are only unheard of in real life and a storyline reminiscent of "The Great White Hype" (Damon Wayan's at his most foolish, worth checking out) - in reverse, Adonis finds himself boxing for the championship against a seasoned fighter with everything on the line.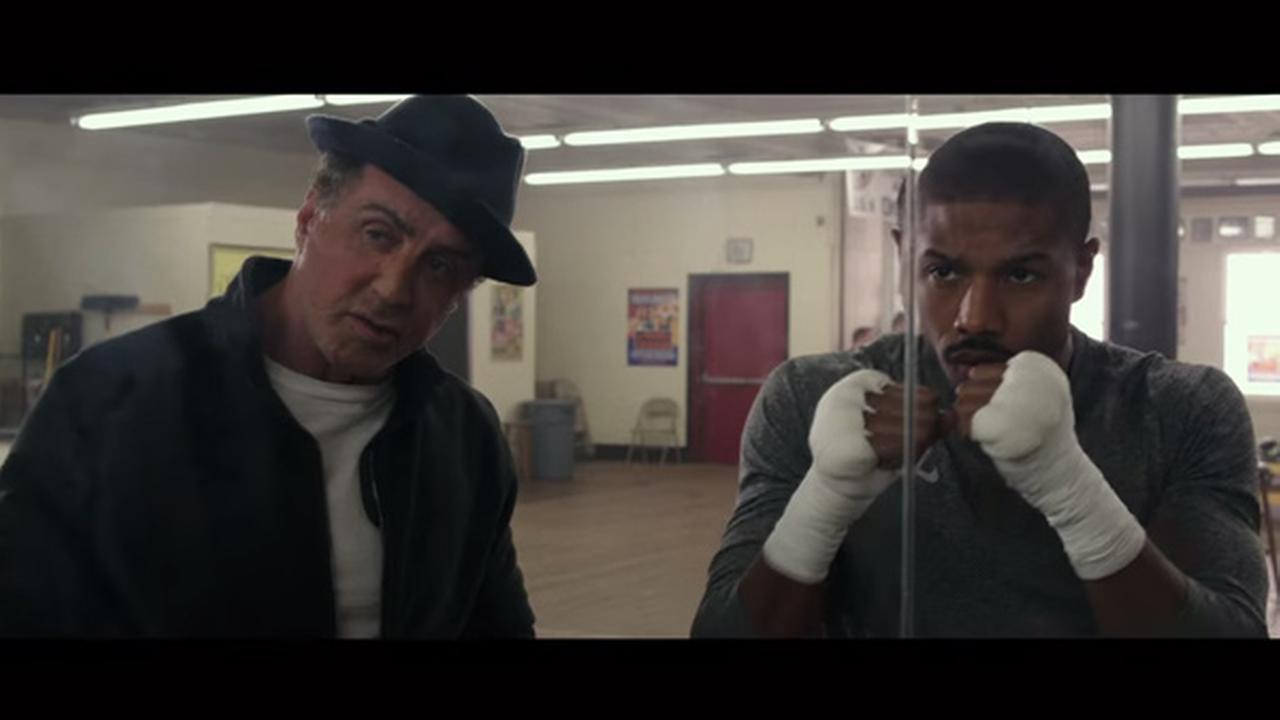 Adonis wins a fight agains "Pretty" Ricky Conlan (Bellew, a fighter in the real world - although he looks about as cut up as I do after eating half of my mother's Thanksgiving turkey and a couple of servings of peach cobbler - which happens to be how I look right now). Johnson has the great Rocky Balboa in his corner as Rocky gives him the tools to battle his
[CLICHE ALERT]
toughest opponent... HIMSELF! WHUUUUH? He does MJ one better. He's not standing with the man in the mirror, he's shadowboxing that dude to the mantra "one punch at a time; one step at a time; one round at a time." Actually, that part was a pretty decent philosophical position that I would encourage people to adopt in either a physical or metaphysical context, but... that's for a different day.
I won't tell you how this movie ends, but I can say that I cheered right along with the idiots who forget that a movie is only a movie. Adonis Johnson is just a made up character, fighting a choreographed fight that was shot on a movie set with countless takes-retakes. Still, I literally moved as if I had to bob & weave right along with Adonis as he fought through each round. That's a sign of investment. Kudos to Michael B Jordan and Ryan Coogler for making Adonis a likable albeit flawed millennial - much easier said than done! The emotional rollercoaster ride and all the talk of battling memories and the feelings of loss that a adult child has to deal with when losing a parent(s) got me thinking about struggle and responsibility and all that business. As a dude who grew up with a father who was widely respected from the streets to the pulpit, and whose name was bigger than most (in the Stuy and beyond), I found myself getting a little verklempt; then, I shook it off and remembered it was a damned movie spin-off of Rocky, son. Rocky. SMDH@IMTHATDUDE
IMTHATDUDE gives Creed: 4
RATING SYSTEM:
5 = You should be about halfway to the theatre by now… Well… GET!
4 = Definitely worth the bread. Niiice.
3 = I won't cuss anybody out and demand my paper back.
2 = Somewhere SOUTH of under-whelmed./I know it has a pulse, but…
1 = Not a good look. They played me AND I played myself.