Way back in July 2017 (before anybody outside of the studio execs saw more than the teaser trailer) I said that
I expect Black Panther to be "effing dope!"
I may have been wrong. It was better than that. It was SOFA.KING.DOPE it's not even fair. It's been a long time coming... Black Panther is the first comic book movie/superhero film that actually means something AND it is absolutely top notch in terms of its quality. It isn't "good... for a black movie" or "good, but it should have been better if they had blah blah blah..." It is legit better than best Iron Man (I) movie, better than the best Avengers (I) movie, better than the best
Captain America (Civil War)
better than
Wonder Woman
(which was the best DC movie in recent decades), and it kicks
Deadpool
in the nuts -
and these are all movies I like!
Black Panther was stellar from the dead on perfect casting to the action and comedic writing. The only thing that gave me pause prior to seeing it was whether the script would hold up to the expectations from
Captain America: Civil War.
Shout out to Stan Lee and Jack Kirby for creating a black superhero like this back in the 1960s. I wont dig too deep into their motivation for creating Black Panther, I'll just say... good call. #WAKANDAFOREVER Fast forward and we find Ta Nehisi Coates (a journalist and one of the most influential black authors of our time) has a graphic novel version of the re-imagined Black Panther that I suggest real fans pick up - it's a good read. It was a little bit of concern to me that the names attached to this movie were relative newcomers to the big screen. Ryan Coogler, the director, who had done
Creed
and
Fruitvale Station
; both exceptional films, but nothing on this scale. It was also written by Coogler and another newbie to this type of film, Joe Robert Cole. Nothing they did was this kind of action and they were super dramatic. Not to mention... they're both BLACK! Say whuh? Yup. A predominantly black cast, black writers, black director, and it wasn't a movie about sports, civil rights, or big mama...
and there's nobody in the major credits whose name rhymes with Pyler Terry?
Already sounding awesome to me.
Damn near every performance is a breakout performance. I would go so far even as to say that this should be nominated for multiple Oscars next year. As much as I think the Oscars ain't all they're cracked up to be (otherwise Denzel would have won for Roman J. Israel and Malcolm X) - hence the birth of the Shammi Awards.
VITALS
Ryan Coogler (Creed, Fruitvale Station) - Director
Ryan Coogler (Creed, Fruitvale Station) and Joe Robert Cole (American Crime Story) - Writers
Chadwick Boseman (42, Marshall) - T'Challa/Black Panther
Michael B Jordan (Creed, Fruitvale Station) - Killmonger
Lupita Nyongo (12 Years a Slave, ) - Nakia
Danai Gurira
(The Walking Dead, )
- General Okoye
Letitia Wright
(The Commuter, and Black Mirror)
- Shuri
Daniel Kaluuya (Get Out, ) - W'Kabi
Sterling K. Brown (This is Us, Whiskey Tango Foxtrot, Marshall) - N'Jobu
Matin Freeman (The Hobbit, TV's Sherlock) - Agent Ross
Angela Bassett (Notorious, This Means War) - Queen Ramonda
Winston Davis (Person of Interest, Modern Family)- M'Baku
Florence Kasumba (Captain America: Civil War, Wonder Woman) - Ayo
Cast also includes Forrest Whittaker, John Kani, and Andi Serkis
WARNING:
THIS REVIEW MAY CONTAIN A SPOILER OR TWO
- READING FURTHER MAY NOT SUIT SOME
IF YOU MUST KNOW


King T'Chaka is dead and Prince T'Challa (Boseman) must return home to be crowned king of Wakanda, a nation believed to be a "third-world" country made up of farmers and tribes of little significance. What should be an easy ascension to the throne becomes complicated by rivals in the time of political uncertainty - sounding familiar... if not, don't worry, you'll get there. First, the prince is challenged by the leader of another tribe who believes T'Challa to be weak and unworthy of the mantle of Black Panther. By way of brief background, the Black Panther is the protector and leader of Wakanda. This title is not one that is merely bestowed based upon lineage, but there is an opportunity for worthy warriors to challenge the putative king for his spot and the Black Panther mantle - kind of like what Diddy tried to do with his show The Four.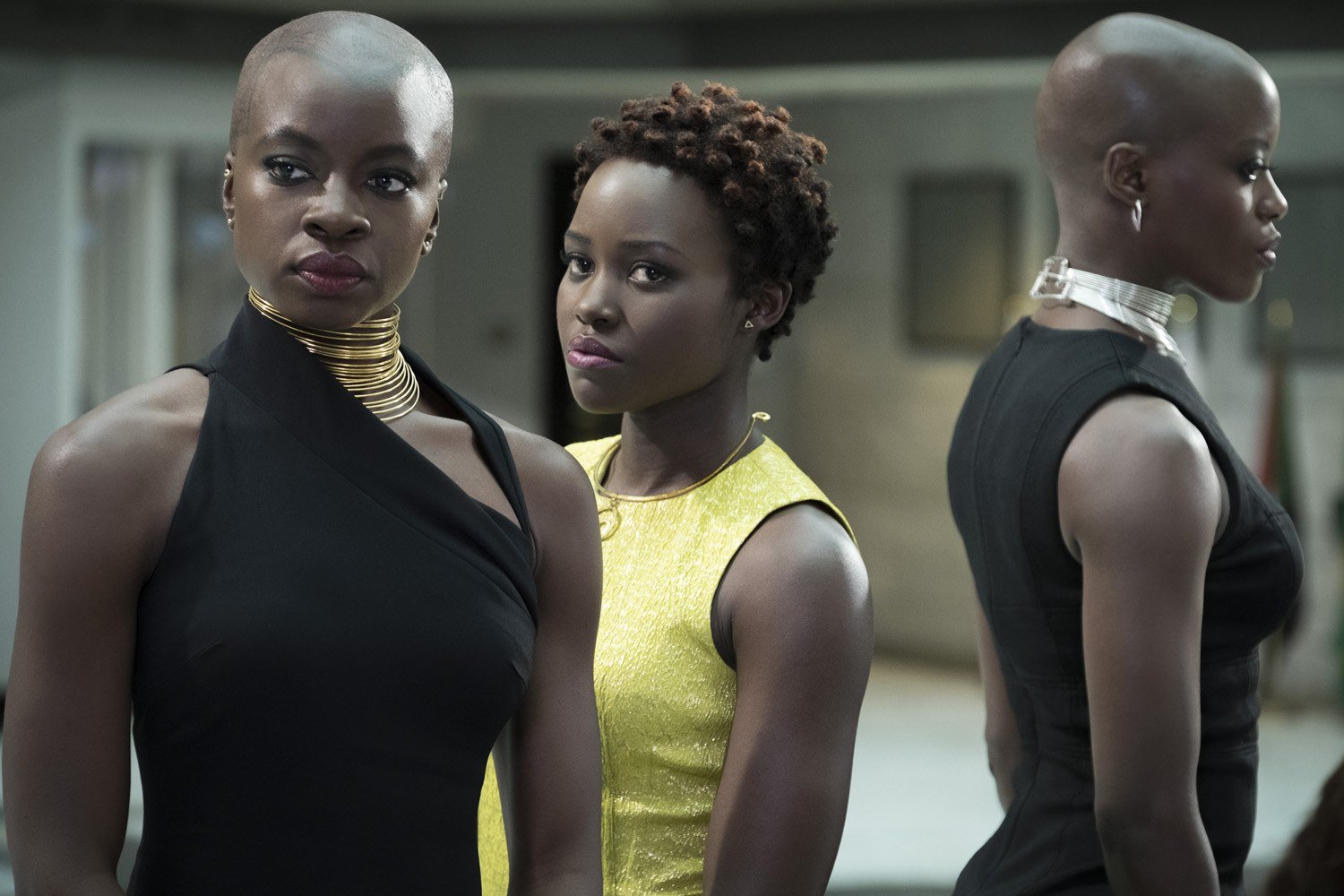 T'Challa has the powers of the Black Panther (heightened strength, reflexes, healing power, stamina - you know... Black people stuff) stripped away to from him to face this warrior-challenger on equal footing. Of course he wins, but then he receives advice that all good leaders should adhere to - surround yourself with good people that you trust. So, he does precisely that. He has the faithful General Okoye
(Gurira)
of the Dora Milaje, the warrior women sworn to protect the throne that make the Amazons in Wonder Woman look like Girl Scouts, mom dukes (Bassett), and bae - Nakia (Nyongo). Interestingly, he didn't really surround himself with a bunch of dudes. Bruh... neither would I, but we'll have to delve into that at another time.
ASIDE: The sheer number of beautiful black women in this one film does make you think, how come you don't get more of them in movies that aren't written and directed by black/brown folks? I mean, com'on son. These women looked good with MY haircut. They gotta be poppin.
WARNING:
SPOILER ALERT
- READING FURTHER MAY NOT SUIT SOME
No sooner than he handles his first test does the next adversary step up; this one is much more unexpected than the first and it hits a lot closer to home. This test of
his leadership also comes as he also has to face internal questions of his own worthiness.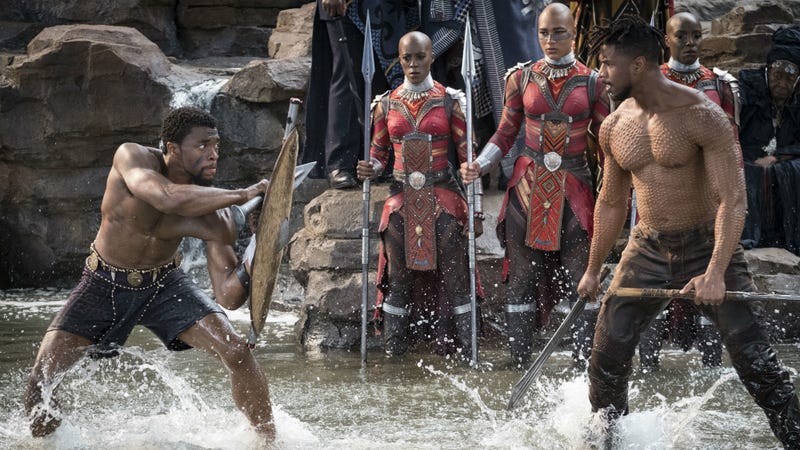 In every hero film, there's the all is lost moment. Of course, the stakes have to be really high - not just a loss of a title, or his powers; there has to be more at risk. If T'Challa loses this second challenge to his position, it means that he conceded or he's dead. And either way, it means he doesn't get to do this with fam anymore: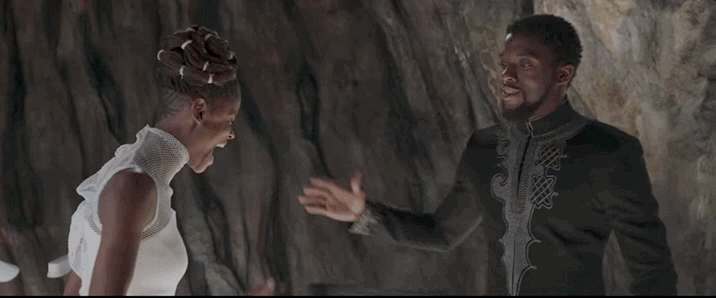 Anybody with a special handshake and salute will tell you that if anybody messes with that, that person is really violating and should expect trouble. But no, that's not the only thing at risk here if T'Challa loses. If his new nemesis, Killmonger (Jordan) happens to be successful, the once reclusive nation of Wakanda will change forever. Change is good if you're talking Obama, but not so good if you're talking Orange grown man babies from Queens - ya dig? Killmonger will move Wakanda into age of war and interventionism (taking their knowledge, resources, and technology to the outside world for the first time) the likes of which they have never seen before.
Ordinarily, there's enough about a movie that tickles my sardonic compulsion to clown it or belittle pieces of it. Black Panther had a couple of moments that could have pushed it right into that realm if they lingered just a hair too long or appeared more frequently. Fortunately, that did not happen. Although a couple of my Blue and White Brothers had a couple of solid jokes about Keenan Ivory Wayans popping up in the movies shouting "Message!"
Truth -
this movie could not be better timed or executed. The kingdom of Wakanda is the most technologically advanced nation in the world and richer than the outside world knows. The creators of the comic and the writers of the movie could not have anticipated comments that would be made by 45 about "s-hole" countries in Africa, Latin America, or the Caribbean when they were writing the script.
There's more to Black Panther than just a bunch of fights and special effects - everything from the barking Jabari tribe giving CIA Agent Ross (Freeman) the business when he tries to speak in their presence, to Killmonger's "hey, Auntie," to Shuri referring to Agent Ross as a "colonizer" in the way brown women can say things playfully whilst cutting your throat (gotta love that), to the Dora Milaje busting that a$$.
Killmonger is an excellent villain. He's a madman with a vision and a hell of a vendetta. More importantly, his mission is something that kind of makes sense and even resonates with people like me. He wasn't trying to watch the world burn like most of those ridiculous Bond villains. He was trying to give a forgotten people a fighting chance to flip the tables on a world that has oppressed them for hundreds of years. You can almost cosign him. Villains that have twisted good intentions just enough to be sinister and if they happen to match up well against the hero... that's a great villain. Black Panther vs. Killmonger made for exceptional dramatic interplay against the backdrop of all of the socio-political issues that this movie addressed at times with a little tongue and cheek approach. The end result is that there's really nothing to pick apart with this movie. I'm doing my best not to give away the story and the meanings behind some of the more important lines in the movie that had this woman next to me say "Yassss" every ten seconds. Aside: Yes, she was stereotypical, but the white girl in the row behind me wasn't much better.
I could have used the Dora Milaje at iPic.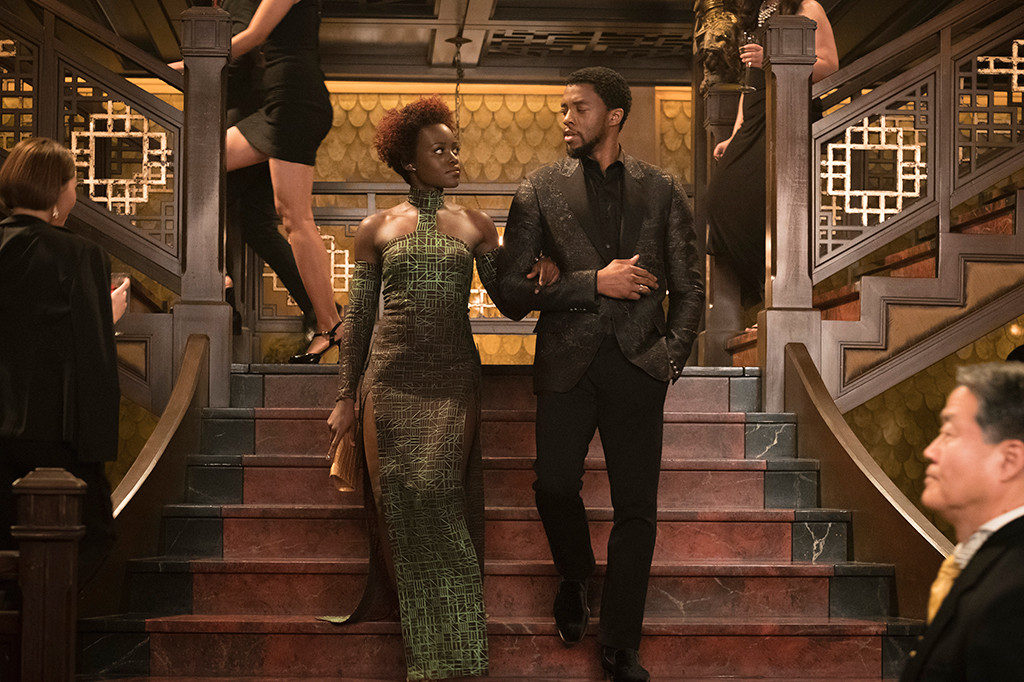 So what the Wakandan accents were all over the place for a couple of folks; there's a bunch of tribes that make up the kingdom, maybe it's like having a Brooklyn accent vs a Jersey accent. So what there were clear messages being dropped in this flick; more movies need to do the same. In fact, all hero movies should be about that something important. So what they tokenized the white dudes; it's about damned time. This movie is culturally relevant without being a strictly FUBU. It is pro-feminism (see Shuri, the General Okoye, and Nakia). It's anti-empirical. On top of all of that, it was a hell of a lot of fun to watch. I'm looking forward to seeing it again... and then at least one more time after that.
WARNING:
THIS REVIEW MAY CONTAIN A SPOILER OR TWO
- READING FURTHER MAY NOT SUIT SOME
There were two post-credit scenes.
The first post-credit scene was very much a throwback to the movie that launched this whole MCU takeover, Iron Man. It was so obvious it had to be an homage. Now King T'Challa has a Tony Stark moment of his own.
The second
post-credit
scene was not really worth staying for unless you are a real fan or movie nerd, like me. The second post-credit scene just lets you see that one of the pivotal characters from Captain America: Civil War ended up in Wakanda. No biggie... yet.
Black Panther comics have been around since the 60s which makes pictures like this all the more poignant -
IMTHATDUDE gives Black Panther: 5


5 = You should be about halfway to the theatre by now… Well… GET!
4 = Definitely worth the bread. Niiice.
3 = I won't cuss anybody out and demand my paper back.
2 = Somewhere SOUTH of under-whelmed./I know it has a pulse, but…
1 = Not a good look. They played me AND I played myself.