I was out doing a little book shopping in the Chelsea area and decided to catch
Thor: Ragnarok
sooner rather than wait. I'm glad I did. Best thing about
Thor: Ragnarok
is that it is by far the most entertaining Marvel movie since they broke ground with Iron Man (I). Also, one of the trailers before Ragnarok had an obligatory nod to another upcoming Marvel flick - the one most anticipated by every brown person I know in Nerdom -
Black Panther!
Coincidentally, Black Panther promises to be THE coolest Marvel flick of all time... I'm calling it now.
WARNING - THIS REVIEW CONTAINS SPOILERS, SO... Skip everything after the vitals if you have a problem with reading spoilers.
You know how you see a movie trailer and there's a really funny or cool looking part of the movie in the trailer and when you finish watching the movie you realize that you got suckered into paying for some sh# you've already seen the only highlights worth seeing when you watched the trailer...
fortunately, this ain't one of those movies.
Thor: Ragnarok is everything its trailers advertised and then some - a straight up superhero action comedy.
VITALS
Taika Waititi
(What We Do in the Shadows, Hunt for the Wilderpeople) - Director
Tom Hiddleston
(Midnight in Paris, Thor: The Dark World) - Loki
Cate Blanchett
(The Curious Case of Benjamin Button, Blue Jasmine) - Hela
Idris Elba
(Star Trek: Beyond, The Dark Tower) - Heimdall
IF YOU MUST KNOW
Thor picks up about two years after
Avengers: Age of Ultron
. Thor has been back on Asgard, fighting the visions/nightmares of the destruction of Asgard and the coming of
Ragnarok
.
SPOILER ALERT
Ragnarok is coming for Asgard and the conveniently named Hela (Blanchett), goddess of death, is coming with it. She is more powerful than Thor, Odin's son and shows it when they first meet. Mjolnir, Thor's hammer, doesn't last 2 minutes in her presence (I know how that sounds, but it's literally true in this movie). Even Odin bugs out and leaves this battle to Thor and Loki (Hiddleston) to figure it out how to deal on some
F* this Sh# I'm Out
type business.
Thor gathers up some very reluctant compatriots and is forced to battle with Hela and try to stop what is the foretold destruction of Asgard and it's people. He accidentally crosses paths with his fellow Avenger, Hulk/David Banner (Ruffalo). He enlists the help of Valkyrie (Thompson), an off-world Asgardian warrior. He even gets Loki to get involved... for a minute, before Loki goes all Loki. Of course, since this is a hero's journey, it hits all the major story elements of the classic hero's tale.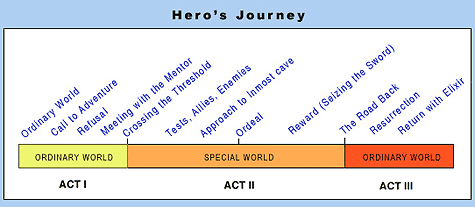 Hero tale or not, Asgard gets it's a$$ kicked but good. In fact, just before he bounces, Odin warns Thor and Loki that the only thing Holding Hela back is Odin - the Allfather has some horrible parental habits. When Hela gets to Asgard her power reaches its height and Thor and his crew do not have enough fire power to stop the goddess of death from laying waste to the entire world. So... Hela destroys legions of Asgardians and slaps up the god of thunder, but the story really is in what Thor learns about Mjolnir, his family, and especially himself. No, there was nothing esoteric, but he did discover some things previously unknown to him and tapped into his the depths of his power as the god of thunder. Summoning all of his power and some pretty cool allies, Thor's crew still can't defeat Hela, so what do they do... well, that I will leave for you to see in the movie.
Hemsworth is funnier than you might expect, but still very much the Thor we all like in the MCU. Cate Blanchett is always brilliant - don't recall anything she has done when she wasn't stellar. She was delightfully wicked and amusing (like all of my favorite ex-girlfriends). Tessa Thompson needs to be in every movie in the MCU - she's fun to watch from the second she shows up in this movie. Jeff Goldblum as the Grandmaster was so freaking weird that you had to like him. Nobody played the comedic "straight man" - everybody did something or said something silly or funny. I can only imagine what this set must have been like for the months they took to film it. Well, Idris Elba and Anthony Hopkins weren't in it long enough to joke or jape.
The fight choreography could have been better, but it was comic book-y; so, it was fine for what it was. There's no reason to see this in 3D, but whatever they converted that wasn't shot in 3D still looked good in 3D.
ASIDE: Interestingly, with all the silliness, there's one thing that has always bothered me about Thor. There's little to no thunder to be heard. Lightning... yes, but thunder... too much to ask, I guess. Theoretically, the thunder would follow just one of the lightning bolts flying around this film. You have everything from Thor's sparkly hands to giant bolts of lightning - one would think they could throw some thunderclaps in the movie at some point, but that's just me. I mean, at least throw a Asgardian Yardie in the background somewhere and let them do a proper thunderclap. Give me something, boss.
As much as I wanted to give the writers credit for a funny movie that makes you laugh and even makes grown folk giggle throughout, the stars have been talking up how much of the movie was improv or ad-libbed - if that is indeed the case, the writers only deserve credit as far as they crafted the story line and framework for this flick. Waititi, the director, deserves plaudits for piecing together an entertaining and cohesive film that had a crap-ton of action (the good kind, not the Transformers BS that drags on and on) and was tongue and cheek without being lame.
It's definitely worth seeing. It's a good date movie
(I hope the one I was going to see this with doesn't realize and read this until long after its on cable - she never does read my stuff, so I should be good money) - assuming your date likes to laugh and isn't one of those posh, I only watch Indie film, I roll my own cigarettes after hot yoga, skinny jean & fedora wearing folks - not that there's anything wrong with that.
Note:
Stay for the mid-credit scene, but don't bother staying for the post-credit scene.
IMTHATDUDE gives Thor: Ragnarok: 4
5 = You should be about halfway to the theatre by now… Well… GET!
4 = Definitely worth the bread. Niiice.
3 = I won't cuss anybody out and demand my paper back.
2 = Somewhere SOUTH of under-whelmed./I know it has a pulse, but…
1 = Not a good look. They played me AND I played myself.